Covergirl Jumbo Gloss Swatches and Review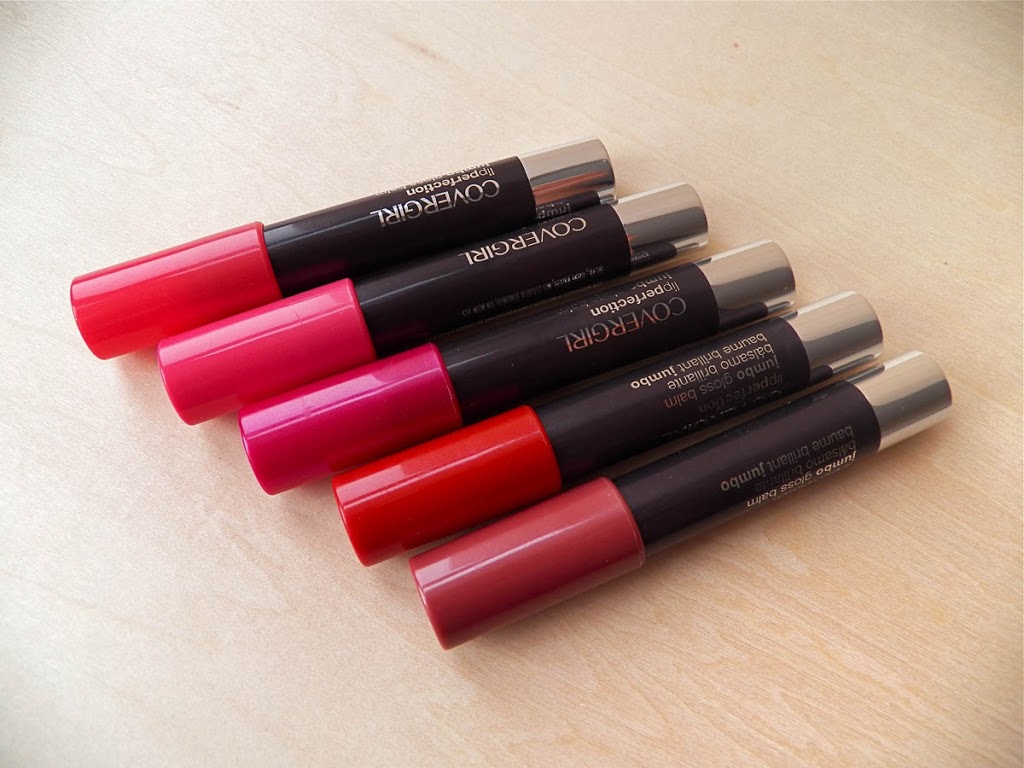 I wear these often due to their lovely colors, soft shine and light formula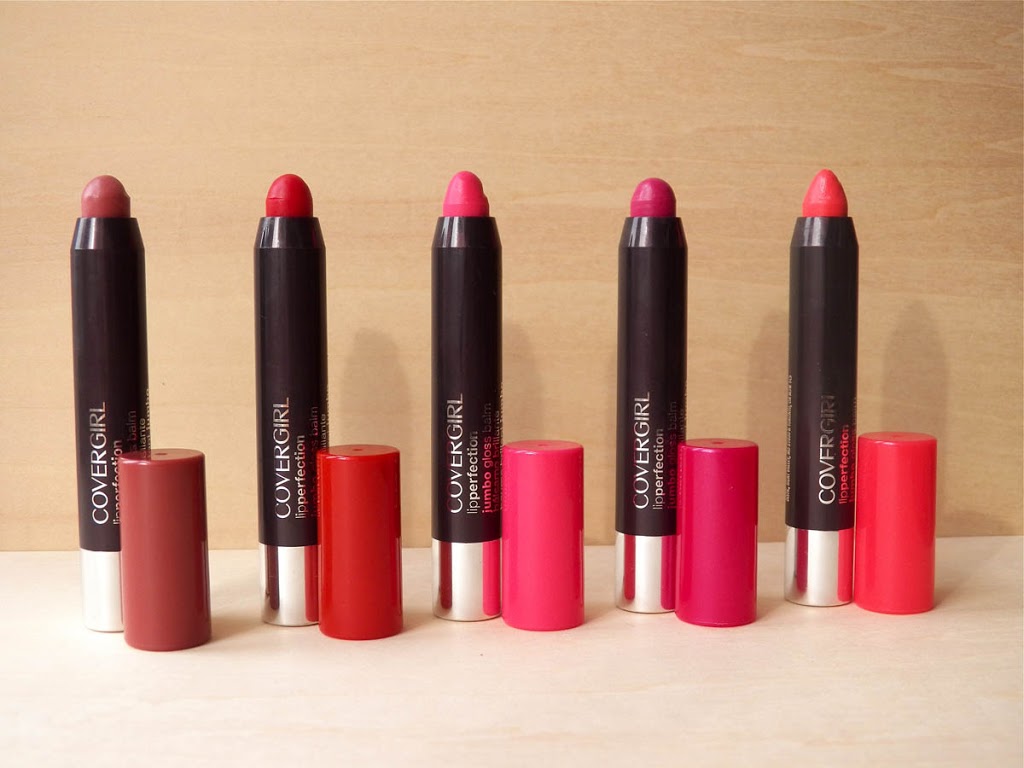 (L) Mauve Twist 275, Scarlet Twist 250, Watermelon Twist 215, Berry Twist 230, Coral Twist 235 (R)
Covergirl has been releasing some new products lately, and since I liked their new 3-in-1 Stay Fabulous Foundation (reviewed here) I decided to try their new lip crayon, butter product since there was a BOGO1/2 off sale.  The first Lip Perfection Jumbo Gloss Balm I purchased was Coral Twist, and I loved it! I went on to buy a few more and thought I would share you how the other ones compared to it. I haven't tried the Revlon Just Bitten Kissable Stains, or the Tarte Lip Surgences, so I can't really make that comparison.  I also know that Neutrogena and Sally Hansen just released some lip crayons, but again, I haven't picked any up (heard raving reviews about the Neutrogena ones from the lovely Emily Noel!).
There are 16 shades in total, and I will be reviewing 5 of the colors for you:  Mauve Twist 275, Scarlet Twist 250, Berry Twist 230, Watermelon Twist 215 and Coral Twist 235. These are available at your drugstore (got mine at Rite Aid), for approximately $9 (yikes..) but there are usually sales on Covergirl products. You get about 0.16 oz of product per tube, which compared to the Revlon, is more gloss for your buck. Also, they have a totally new range of colors in their Queen Collection, so if these colors are too sheer for you, maybe try checking those out.
I will give you the disclaimer that I love these gloss balms and I wear them daily – just depends on what you're looking for! These have sheer color, soft shine, and the line contains youthful, wearable shades.  But, let's get this review started, shall we?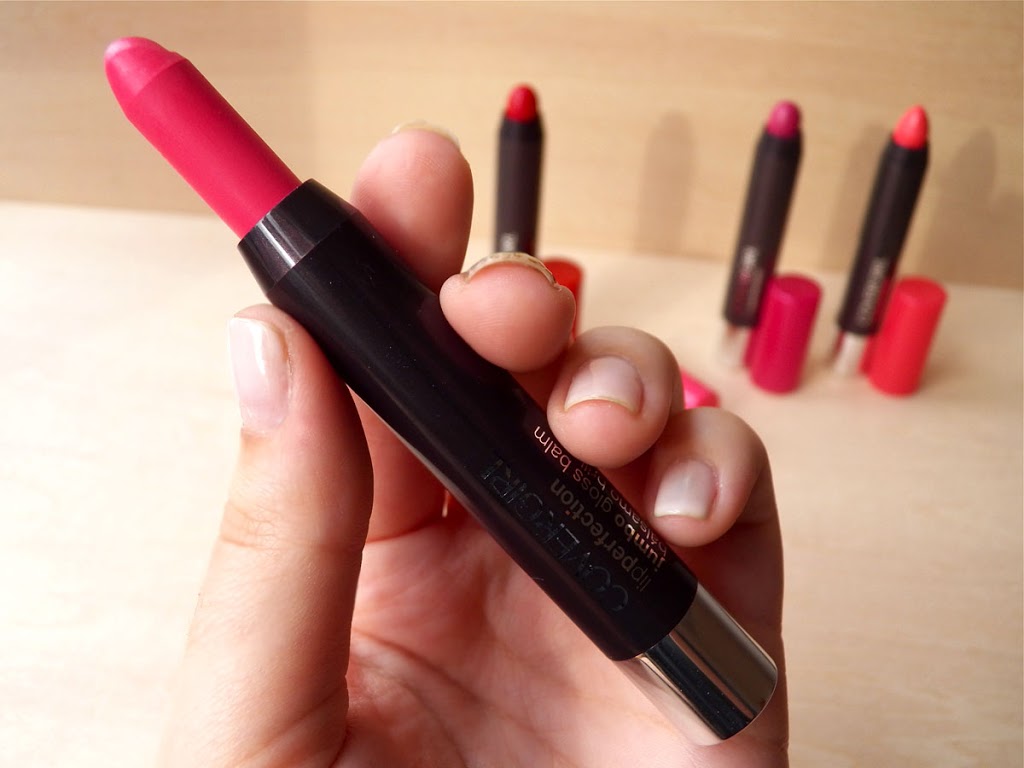 These Covergirl Jumbo Gloss Balms are twist up (the silver part twists), and that's how much product you get with each (0.13 oz)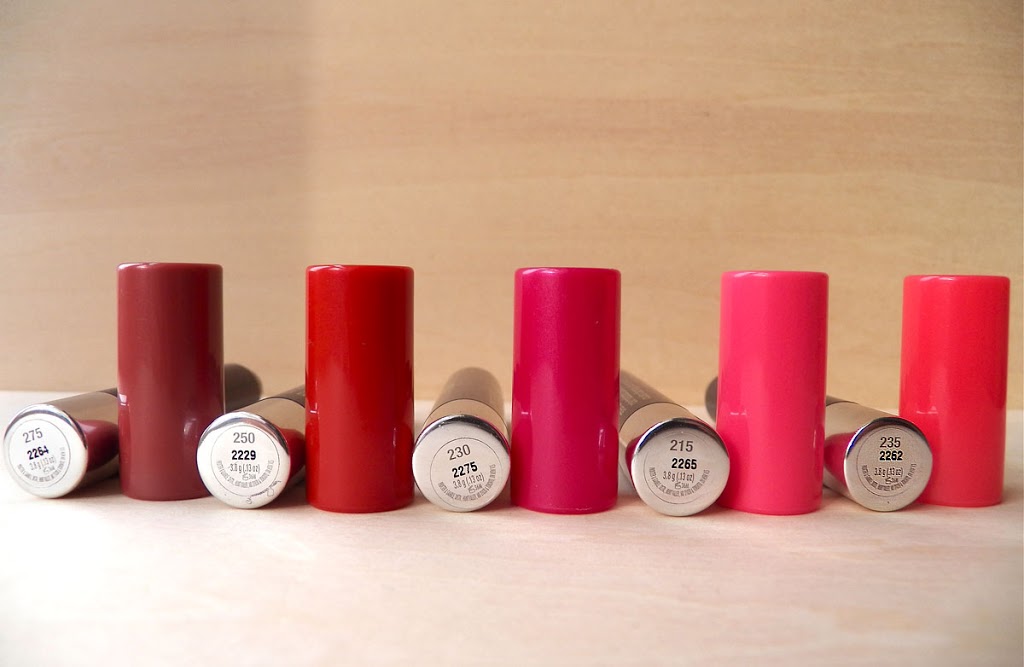 It is frustrating that they didn't put the names on the bottom, but here are the numbers and their colors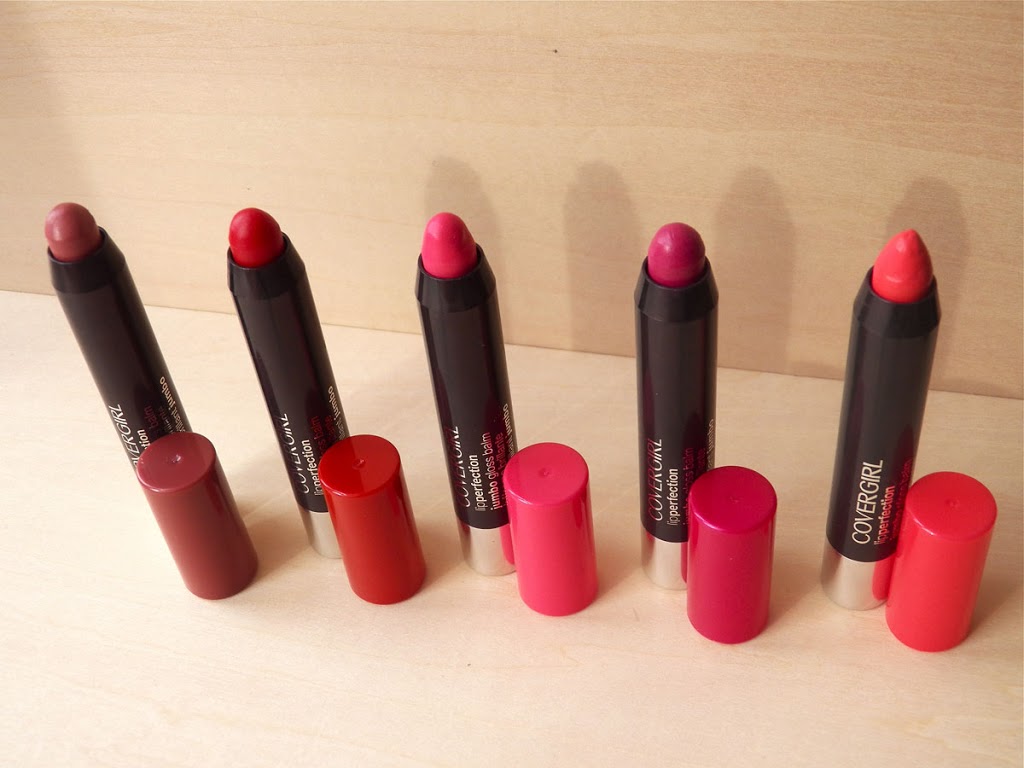 The colors match their specific caps but not necessarily in terms of opacity ex: berry twist is quite sheer, but it is that shade
Mackenzie's Notes: 
Pros: These are my go to lip products now, mainly because of their lovely colors and their formula! The colors are interesting, and they have a wide variety, between many nudes and more vibrant shades – there are 32 colors including the Queen Collection! They are very wearable because they are slightly sheer, and they do have a soft shine (as Covergirl states), perfect for everyday; they are not too glossy, or slippery, and neither are they matte or drying.  Imagine a mix between the Maybelline Baby Lips and the Revlon Lip Butters. I have tons of bright, opaque lipsticks, and honestly, I get few wears out of those, as I'm not bold enough to wear saturated colors to work, nor do I want to be bothered with reapplying.  These colors are definitely buildable and some are very pigmented. They contain shea butter and they glide on very smoothly. Packaging is efficient because of the twist up, and I love how the caps actually match the color and finish of each gloss balm.
Cons: They are quite pricey for the amount of product you get, for how much you have to apply each time and for a drugstore lip balm; but there are always sales and I will have to schedule my mini hauls! They are moisturizing but not overtly so, and their lasting power is about 1-2 hours; depending on some shades, these do leave a stain, so that's nice.  As I was applying them, my Coral Twist broke at the base, so I had to press it in to secure again; nothing that can't be fixed, but still.  The name of each is not on the actual packaging, and there are only numbers – slightly annoying, but it's not a deal breaker.
Grade: 3.8/5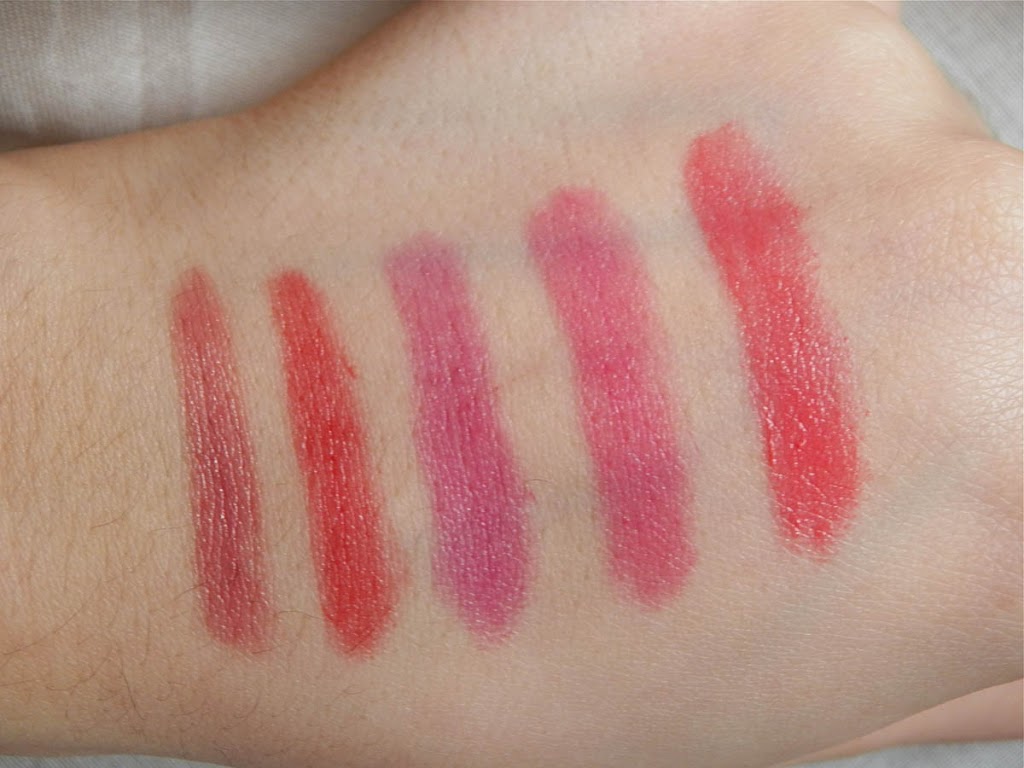 Swatches L – R: Mauve Twist 275, Scarlet Twist 250, Berry Twist 230, Watermelon Twist 215, Coral Twist 235

Lip swatches of the Jumbo Glosses I own! I layered them about 2-3 times to achieve this intensity, some of them are quite pigmented!

1.  Mauve Twist 275 – A 'my lips but better' color as you can see. It's a pinkish, mauve nude color, opaque in 1-2 coats. Glides on smoothly.
2.  Berry Twist 230 – This is the sheerest of all of them, which surprised me as I thought a berry color would be darker. It is a pinky purple, glides on smoothly and has more shine than the rest.
3.  Watermelon Twist 215 – A pretty bright pink, leaning coral.  Less bright than Coral Twist, but pigmented nonetheless.  Leaves a slight stain.
4.  Coral Twist 235 – It is a true coral color, leaning pink instead of orange. The most pigmented out of the ones I tried, applies smoothly and has sheer shine.
5.  Scarlet Twist 250 – An orangey, red with slight hints of brown.  I wear this one the most, as it is a perfect wearable red for my skin tone.  Leaves a nice stain on the lips.

Category: